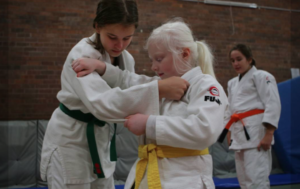 Sophie Weaver may only be little, but she has a heart bigger than most.
Sophie, 7, has ocular albinism and 20 per cent vision. But that didn't stop Sophie from being brave enough to give judo a go with the Sutherland Judo Club.
Not only that, but earlier this month Sophie was graded to yellow belt. It is a sign of how well she has picked up the sport and a reward for her dedication, given she is at every training session on Monday and Wednesday nights without fail under the tutelage of coach Gavin Morgan.
Albinism is a rare genetic condition that affects about 1000 Australians, or one in 17,000.