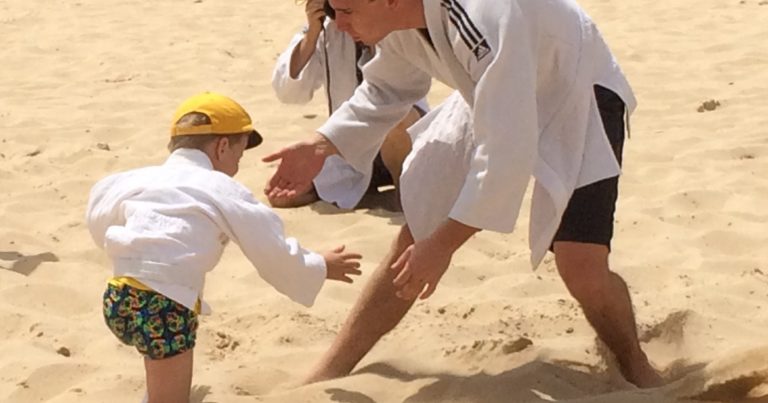 This summer, we'd love you to get out of the Dojo and onto the beach to show off your Judo.
How can JudoNSW help?
Well, here's a few things we can do:
Promote

your Beach Judo session: If your club already does beach Judo – tell us where, and when, in the comments below.

Help

your club with Tips for Beach Judo (see below)

Give a prize

to the best Beach Judo photo posted on Instagram – and Facebook. (To be Announced).
Why do Beach Judo?
Well, its simple.
Taking your club to the beach promotes Judo to everyone on the beach
Everyone on the beach gets to see how Judo builds healthy bodies and physiques.
It's a fun day that builds club spirit and changes things up a bit.
Tips for Beach Judo – it's not complicated…
Don't make your coach organise it – they've got enough to do already. YOU organise it!
Bring suncreen and towels and bathers (duh)
Make sure you warm up.
Take pictures, and post them on Instagram and Facebook.
Bring some club leaflets for any interested bystanders

Make sure you have fun…..
Faqs about Beach Judo
Who can do Beach Judo?

Anyone with a current JudoNSW membership..

Should we let members of the public play?

Nope. But be open to explaining to them whats going on, and getting them along to a beginners session at your club.

Do I bring my Gi?
What happens if a big ol' black belt kicks sand in my face?

Go to training more often.

Are there special rules for Beach Judo?

Yes. Everyone gets an ice-cream after training.

Should I bring my kids?
Do I need council approval?
How do I organise Beach Judo?

Step 1: Tell your coach.
Step 2: Agree a meeting place and time on the beach with your (JudoNSW) club mates
Step 3: Bring your Gi.