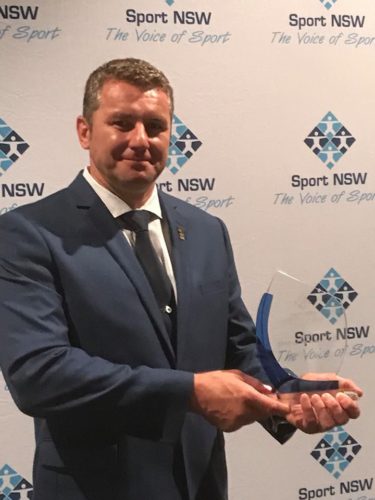 In a black tie ceremony with over 600 sportpeople in attendance, Sports NSW recognised our very own Lubo Petr as Official of the Year.
Lubo, you are a great ambassador for our sport, and your generous volunteering and internationally recognised expertise help make us great.
Thanks again for raising the profile of Judo in NSW.
---
More about Lubo:
| | |
| --- | --- |
| Level of competition/s officiated: | 2017 WORLD JUDO TITLES 2017 INTERNATIONAL JUDO FEDERATION – WORLD RANKING EVENTS – GRAND SLAMS 2017 OCEANIA REGION TITLES 2017 NATIONAL TITLES 2017 STATE TITLES 2017 NSW CLUB LEVEL TOURNAMENTS |
| Major tournaments / championships officiated: | January 2017 – INTERNATIONAL JUDO FEDERATION (IJF) Referee and Coach Seminar Baku Azerbaijan February 2017 – IJF – Grand Slam Paris, France March 2017 – IJF Grand Slam Baku, Azerbaijan April 2017 – Oceania Judo Union Championships, Tonga May 2017 – Grand Slam Yekaterinburg, Russia Jun 2017 – National Judo Championships – Gold Coast August 2017 – INTERNATIONAL JUDO FEDERATION 2017 WORLD JUDO TITLES – HUNGARY |
| Leadership | Lubo has provided educational sessions to coaches referees and athletes on interpretation of Judo competition Referee Rules and recent changes to these rules Lubo a member of the NSW and National Judo Federation of Australia Referee Commission Lubo referees at all levels of Tournaments – Local CLUB to INTERNATIONAL – including U9s, U12s, U15s U18s, U21s and open age categories. Lubo is currently ranked in the top 24 of all international Judo Referees. |